How to Choose a Bathroom Mirror
Jun 17,2021 | Vicky
How to Choose a Bathroom Mirror
Modern bathroom mirror dimensions, design, finishes and accessories
Can you imagine a bathroom without a mirror? Unthinkable! It's an essential decor item, for both aesthetic and functional purposes. It completes the room, helps to provide a sensation of space and is necessary for applying make-up, combing your hair, or washing yourself. Nowadays, it can even be used to adjust bathroom lighting or listen to your favourite music. How, read on to find out.
The bathroom is almost finished: you've chosen the tiles, installed the fittings and the designer cabinets you've always wanted, and at last have your dream shower enclosure. Now you just need the final details, accessories and a mirror – the cherry on the cake. It's very easy to underestimate the importance of this last stage; at this point you're tired, or you may not consider it so important. You couldn't be more wrong!
A bathroom mirror is an item that completes the decor project, enhances the tiles, enlarges the room and illuminates the vanity unit with its integrated lighting. So let's see how to choose one and how many solutions are available to complete your bathroom in style.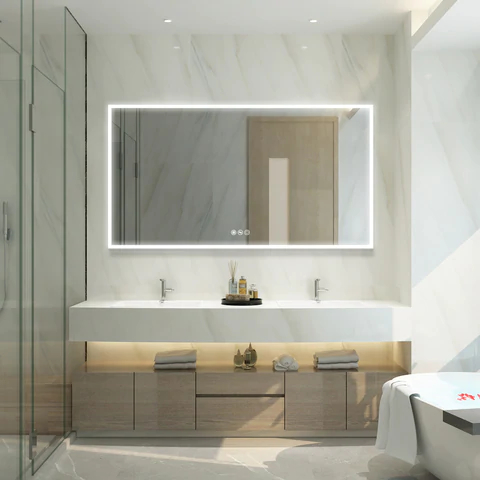 1. Bathroom mirrors: how big should they be?

Mirror dimensions are subjective, and not always connected with the dimensions of the room or cabinets. In effect, the latest trends suggest original solutions such as asymmetric, extra large or multiple mirrors. All these ideas will customise your bathroom, making it unique. A trick for furnishing a small bathroom, for example, is to fit an extra large mirror, apparently out of proportion, to create the sensation of a much bigger room. So, a mirror for a small bathroom does not necessarily have to be a small mirror!

If the room's dimensions complicate things, you can opt for bespoke bathroom mirrors or wall units with mirror fronts (shallow units with mirror doors serve a double purpose).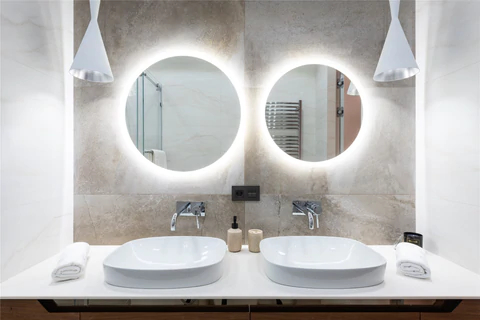 2. Bathroom mirrors: how many shapes do they come in?

In this case, too, there are no rules. Besides the simple rectangular or square mirror, round or oval ones are very much in fashion, as well as unusual, irregular shapes. The shape of the mirror may be influenced by the cabinet/vanity unit, or, just the opposite, be completely different, becoming an element that breaks with traditional style.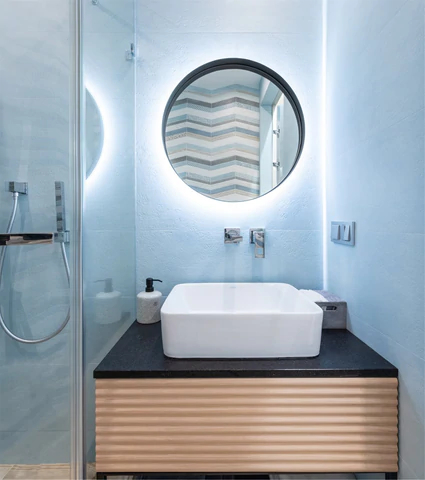 3. Bathroom mirrors: the importance of lighting

Has it ever occurred to you that lighting is an important element of the decor? You realise this particularly when the light is dim, or not properly planned. For this reason, bathroom mirror lamps must be carefully considered. They can be integrated into the mirror or placed to one side or above, on the wall (with a spotlight) or suspended (from the ceiling). What's important is that the light is as natural and dispersed as possible, making your daily routine more pleasant.

Mirrors with integrated front lighting are a complete solution suitable for almost all decors, except where you want to create unusual effects with separate lamps. These are usually wall lights (or LED strips) placed on the top part of the frame, with a switch on the bottom or side of the frame. They are installed by connection to the socket in the washbasin area (previously prepared). However, there are backlit mirrors that create more eye-catching light in the room.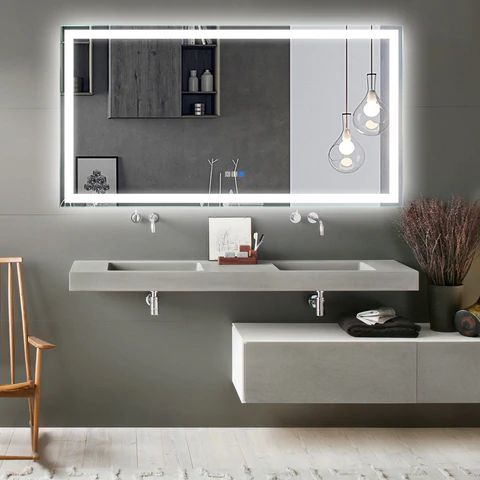 4. Bathroom mirrors: With or without a frame?

As we said, modern bathroom mirrors are true decor items, especially if they have a large or coloured frame or a particular finish (hide, metal, wood). It easy to match the mirror frame with the rest of the décor: this will help you bring a stylish touch to your bathroom with an indispensable accessory!
5. Mirror with lights and music: a hi-tech solution for a modern bathroom

Nowadays bathroom mirrors are not just functional, they can also be hi-tech. By means of touch controls, a tap on the mirror glass can adjust the intensity of the light or its colour (warm or cold), dry condensation on the mirror after a shower, and even listen to music (first connecting your devices with Bluetooth).
Choosing a mirror for a modern bathroom is an operation in style. You may need some advice to help you compare finishes, dimensions, shapes, types of lamps and colours.
Comment