How To Measure A Kitchen Sink
Jan 09,2021 | Vicky
When it's time to update your kitchen sink, it's important to make sure the new sink you choose fits into your counter and cabinet space. Learning how to measure a countertop for a sink is easy and can be done in just a few steps. This guide will teach you how to measure a kitchen sink to ensure the perfect fit.

When learning how to measure a kitchen sink for replacement, first you need to know what type of sink you currently have. Since each sink is measured slightly differently, it is important to know what type of kitchen sink you have currently. There are three main types of sinks: undermount sinks, drop-in sinks and farmhouse sinks.

Things You'll Need
Pencil & Paper
Tape Measure
Straight ruler


Step 1: Determine Your Project Scope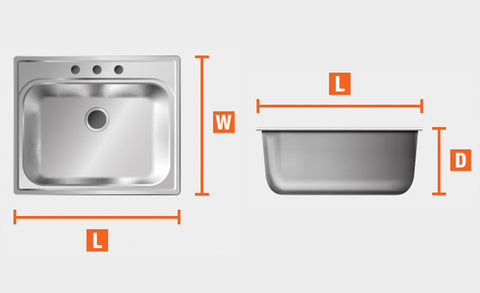 Are you replacing a kitchen sink with the same installation type you currently have or are you trying a new style? Knowing this will change how you measure your kitchen sink.
If you're replacing an existing sink with the same installation type, simply measure the length, width, and depth of your current sink and choose a replacement with the same measurements. That's it, you're done!
However, if you are choosing a new sink installation type, follow the three steps below.
Step 2: Measure Your Current Sink
Measure the length and width of your countertop's existing cutout along with the depth of your old sink. If you currently have a drop-in sink, you may need to go into the cabinet under the sink to measure the opening from below. Measuring the drop-in sink's basin from above will not accurately show how big the countertop opening is. Your replacement sink should be no deeper, wider, or longer than these measurements. If you would like a deeper sink, follow step 4 below.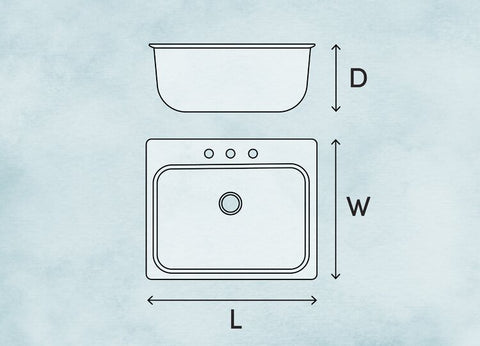 Step 3: Measure Available Width and Length
Your under-cabinet and kitchen countertop space will determine how big your new sink can be. To find your countertop's usable surface space, measure from the front edge of your countertop to the wall, accounting for the thickness of any backsplash. This is the widest your new sink can be. However, if you use up all available space, you will need to use wall-mounted faucets which will include making new holes in your wall and moving plumbing lines. To make this more DIY friendly, we recommend measuring the base of your kitchen faucet and dedicating that amount of countertop space for faucet holes and the rim of a drop-in sink (if you choose this as a new style). If you're measuring for a farmhouse sink, remember that it's okay for this style to jut out slightly from the face of your kitchen counter.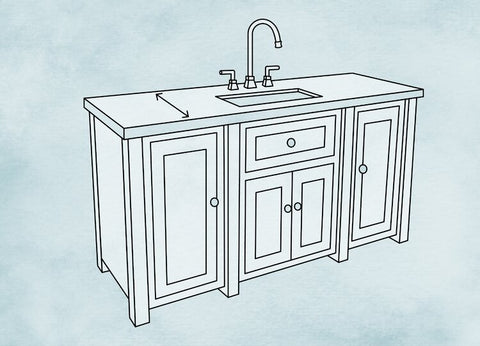 Next, you'll need to find the interior length of the cabinet space underneath. Go into your cabinet and measure from left to right (side to side), and then subtract three to four inches from the total length to account for sink-mounting hardware needed on either side. To ensure your cabinet can accommodate your new sink, this measurement should be no less than the "Minimum Base Cabinet Width" listed under the sink's specifications.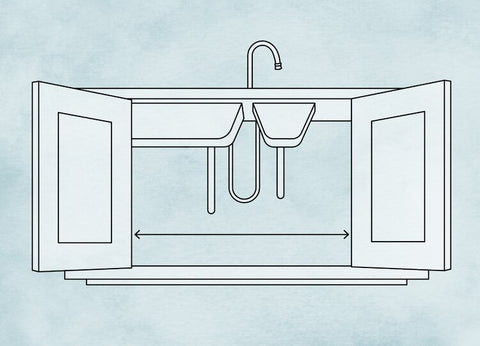 Step 4: Measure Sink Depth and Cabinet Depth
Lay a level or straightedge across the top of your sink. Measure from the deepest part of your sink to where the measuring tape and straightedge meet. Most sinks do not have a flat bottom to allow for better drainage, which is why it is important to note the deepest part of your sink. Remember that a new undermount sink will be slightly deeper than the product's labeled depth as there will be an inch or two of countertop above it.
If you want a deeper sink than you have now, make sure to check under your cabinet to ensure the new sink you want clears any structural elements or immovable objects – such as plumbing pipes, electrical connections, and garbage disposals – and offers enough clearance for drain assembly. When measuring for a farmhouse sink, which sits flush with the surrounding cabinets, you'll need to measure the distance between the top of your counter and the top of the cabinet doors beneath it. This measurement will dictate the maximum depth your sink can be.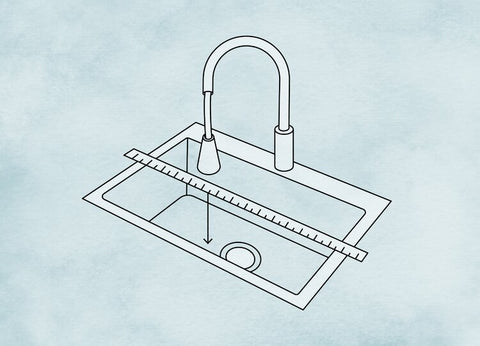 Tip!
If you are interested in buying a kitchen sink grid to help protect the bottom of your sink, measure the width and length of the sink's basin. Your sink grid should be the same size or close to the size of your sink to ensure it protects the basin. While taking measurements, take into account the curve of the basin's edges. This will also affect the shape of the grid you choose.
Comment