Benefits of Having an Outdoor Break Room at Work
Jun 04,2021 | Vicky
Businesses are opening back up, and people are returning to their offices, but many employees working remotely have grown accustomed to flexible work areas. In comparison, regular indoor offices may seem uninspiring and out of touch with their professional needs. To boost company productivity and improve your employees' overall well-being, consider the benefits of an outdoor breakroom.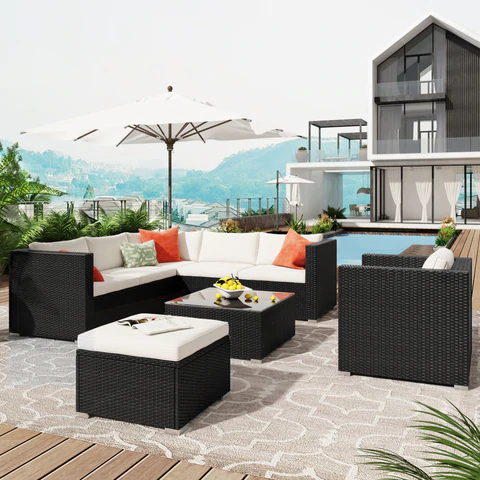 Increased Productivity
Many companies have noticed productivity growth thanks to remote work. To maintain that progress, managers can offer an environment similar to what employees experienced while working from home. Giving your staff time to step outside and enjoy their breaks in the fresh air is a simple way to foster more flexible working conditions.

Improved Physical Health
Spending time outdoors has physical health benefits as well. Exposure to fresh air and sunshine produces endorphins, which can decrease stress levels, lower blood pressure and produce an overall sense of well-being. Outdoor exercise relieves tension, and taking a break from phone and computer screens reduces eyestrain, too.

Elevated Mental Health
Since it can affect work quality and performance, mental well-being is a key concern in every workplace. Fortunately, the outdoors acts as a kind of therapy to improve employee mental health. Spending time in the sunshine has a natural mood-boosting effect that can help combat feelings of depression. Also, breathing in fresh air boosts concentration and energy levels.

Employees like to work for companies that understand their needs, and workers who feel physically and mentally well-rested produce better quality work at their best pace. By offering the mental health boost of an outdoor break room, your employees may feel more motivated to meet deadlines and take on new challenges. Without such perks, they might not feel as driven when returning to the office.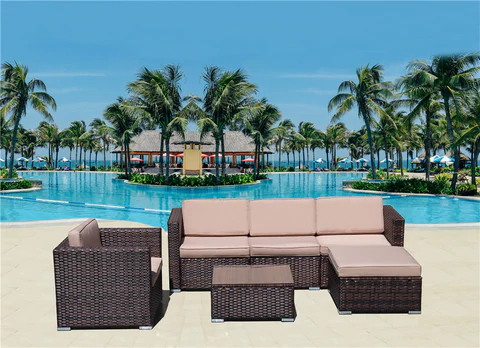 How to Create an Outdoor Break Room
While there are numerous advantages to having a break room outside, your particular workspace might present some challenges. If you have concerns about a lack of physical space or a limited budget, there are many ways to navigate these roadblocks and create an outdoor space that fits your employee's needs as well as your own.
Consider the Location
Think about where you have the physical space for workers to take their breaks outdoors. Whether you work out of a single office suite or a mid-rise building in the city, plenty of options exist outside company doors. A nook outside an overhanging porch, greenspace in the parking lot or a balcony on the top floor could all serve as convenient outdoor break rooms.
Make sure the location you choose for an outdoor break room gets enough sunlight. Having sufficient exposure to the sun allows your employees to reap those benefits for their mental and physical health. Those who already have an outdoor break area might consider some inspiring decorating ideas for small patios and balconies to rejuvenate the space.

Basking in the sun's warm glow has its benefits, but investing in sun protection is smart, too. While employees might bring their own sunscreen or sunglasses, a space that provides cool shade, as well as full sun, is ideal. Consider accessories such as umbrellas or canopies that have UV-protection as well as durable, weather-resistant designs for long-lasting use.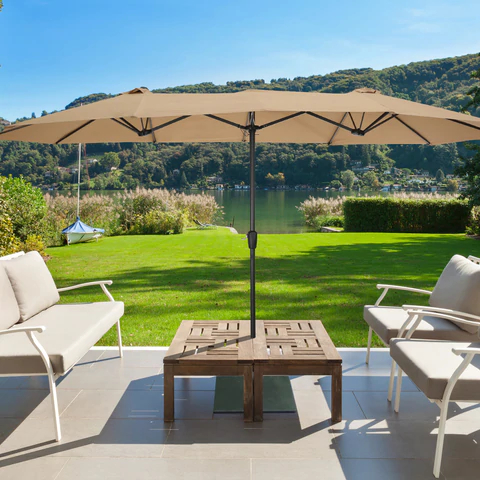 Get the Right Furniture
Employees need the right furniture to relax and unwind while taking their breaks outside. Consider new furniture or second-hand furniture, depending on your budget constraints. Just ensure the durable and weather-resistant outdoor furniture you select features comfortable seating with tables at an appropriate height. Some patio furniture and seating options include:
Benches: A modern and flexible seating choice, benches are easy to arrange within limited and expansive layouts alike. Backless designs and benches of different lengths let people sit or lie down however they please.
Sectionals: One of the most comfortable seating options available, sectionals come in sizes fit for small and large spaces, and their thick cushions provide optimal support. Employees can sit close enough to socialize during group break times, too.
Chairs: From bistro chairs for outdoor lunch breaks to Adirondack seats perfect for afternoon reading, various types of patio chairs make it easy to furnish an outdoor break room with the proper seating.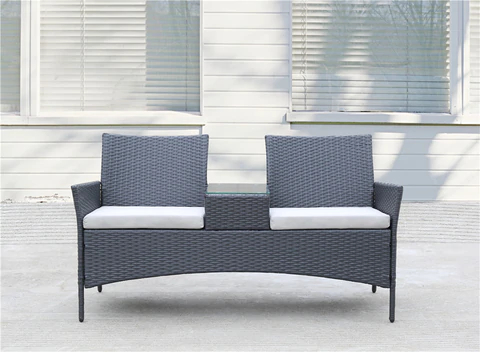 Dining Sets: Many employees might take their lunch breaks outside, so picnic tables and patio dining tables and chairs are a fitting addition to your outdoor break room. Patio dining sets feature materials that are easy to clean in case of spills, too.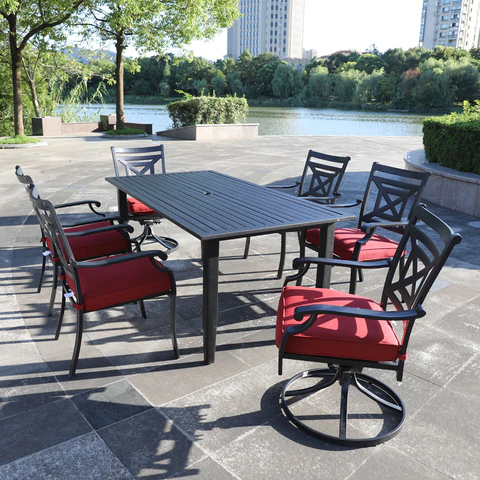 Decorate Appropriately
Once you have your seating sorted out, think about different ways to decorate your employees' new outdoor break room. For example, storage is an essential part of any outside living space. With storage bins and boxes, you can keep cushions or covers stored seasonally. When not in use, you can stow outdoor entertainment items like games or grilling supplies, too.
While you might work during the daylight hours, having sufficient lighting around your patio or outdoor space is still important. Some days of the week are cloudier than others, so outdoor floor lamps, wall-mounted lighting and string lights can supply enough light for employees who like to read during breaks.

Plan ahead for seasonal temperature changes and invest in outdoor heating and cooling systems as needed. Staff members can decide whether they want to go outside when the temperature is higher or lower than they prefer, but outdoor heaters and misting fans make outdoor break rooms comfortable year-round.
Maintain the Break Room Properly
The key to having an outdoor break room your employees can truly enjoy is keeping it in good condition. First, you'll want to maintain outdoor furniture with proper winterizing techniques such as patio furniture covers, cleaners and sealants for wood furniture.

If you have a cleaning crew, include the break room in their regular duties. Sweep the area with a broom as needed and provide outdoor garbage cans so workers can toss their trash when they finish eating. Most outdoor fabrics are stain-resistant, but a little soap and water or upholstery cleaning solutions make quick work of accidental spills.
Comment