Guide to Choosing a Dining Chair
Jun 17,2021 | Lucas
The dining table plays a big part in everyday life, whether you're hosting a dinner party or enjoying a family meal. Breakfasts, brunches, dinners and late lunches are spent congregated around the table, surrounded by our loved ones and delicious dishes. Therefore – considering we spend so much time in this room – it's essential to pick the right type of dining chair to complement our dining room and ensure we're sitting as comfortably as possible.
Here, in our guide to choosing the right dining chair, we explore the perks of each perch – from wooden dining chairs to velvet upholstered benches – and how they can be styled in a dining space.
Why choose a wooden dining chair?
It's difficult to go wrong with a classic wooden dining chair. Classic styles come in a range of shapes and sizes, with distinctive features such as a cross back, spindled or tapered legs, and arched stretchers. Made from hard-wearing types of wood (oak, walnut, and mahogany), it's easy to see where the popularity of the wooden dining chair stems from. Quite the chameleons, they can meander their way into a modern or traditional scheme and be left plain (for a rustic feel) or adorned with seat pads (for extra comfort). Should you decide to update your décor, the dining chairs can double up as desk chairs – or be mixed and matched with new pieces for an eclectic vibe.
What are the benefits of a velvet upholstered chair?
There are many merits which come part and parcel with owning a velvet dining chair. You don't need too much of it to make a big impact in your space, and the rich fabric can make a simple dining table seem much grander. Woven using silk fibres – which are easy to dye, resulting in rich colour pay-off – velvet comes in a myriad of different hues. It's also easier to remove spillages from velvet than it is to clean linen upholstery, making it a practical choice, even though it may seem rather ornate. If you think using all velvet dining chairs is a bit too much, you could have two velvet dining chairs at either end of the table and simpler ones along the sides.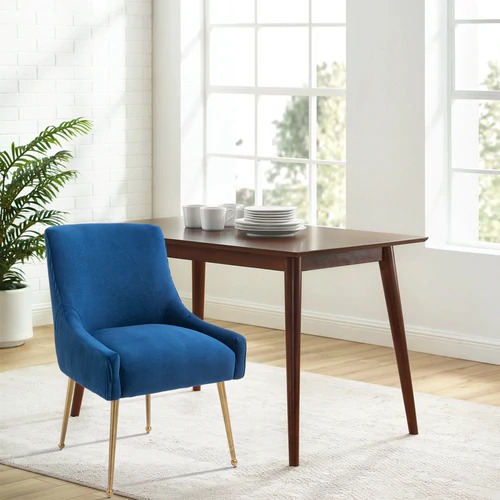 How to choose an upholstered linen dining chair
Timeless and understated, and not to mention three times stronger than cotton, linen is perfect if you like muted, understated interiors. It's a delightful fabric – cool to the touch and it gets softer with age. Linen dining chairs are most commonly found in shades of cream, grey and ecru: a complete parallel to the rich, bright colours synonymous with velvet dining sets. Linen works beautifully in neutral schemes, both modern and traditional, and can look very smart if you opt for a more elaborate frame design. Mixed with a dark wooden table, a set of upholstered linen chairs can be used to create a formal dining room.
The best thing about an upholstered leather dining chair
One of the most durable materials, leather can be twinned with modern and retro-inspired furniture. No longer restricted to one or two shades, leather is now made in a broad spectrum of colours. However, black, tan and dark brown tones are a prevalent choice. Black or cream leather chairs look great in a contemporary apartment whilst aged tobacco leather upholstered chairs, in tan leather, can be integrated into a classical layout. If you're looking for dining chairs that last a long time, leather dining chairs are just the tonic (as they look rustic and full of character when they start to age). A hardy fabric, leather can be wiped down and you save precious hours – as you don't have to remove covers and wash them. If you're a dog or cat lover, a leather dining chair might be a suitable option as they don't harbour fluff and fur.
When to choose a loose-covered dining chair
Loose-covered dining chairs often last a little longer, as replacing the cover will increase the lifespan of the piece. Switch from cotton to linen, or floral to a block colour – the choices are endless. A practical alternative to buying a new range of dining chairs, simply remove the covers for cleaning, or update them with different covers in keeping with seasonal changes or a new colour scheme.
Why opt for a dining chair with arms?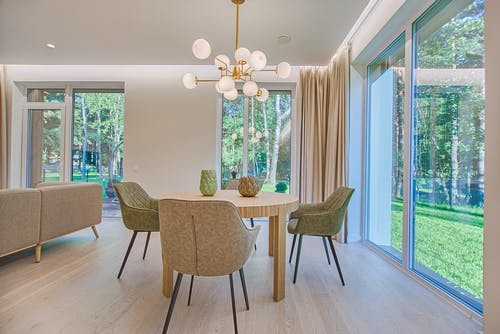 Suited to a formal setting, dining chairs with arms look great in a larger dining room as they are big enough to fill the space. Heading into armchair territory, they could be given a new lease of life as a reading chair. Throne-like in appearance, this type of dining chair offers plenty of comfort, support and is the chair for you if you like spending a long time sat around your dining table.
As you have seen, there are many different types of dining chairs to pick from. To help choose the best one for you, think about the function of the room, whether the new dining chairs will match your existing colour scheme and what kind of chairs will fit your family.
Comment