5 Trends in Kitchen Faucets
May 02,2021 | Vicky
From motion sensors to water filtration, the faucet is having a moment

Of all the things you use in your kitchen, the faucet is probably the one you interact with most (with the fridge a close second). And while indispensable to just about every task that takes place in your cook space, the faucet has tended to take a back seat to showier features that draw exclamations from your guests, such as appliances (that six-burner pro-style range!), countertops (that island topped with Carrara marble!) and even sinks (hammered copper apron-front, anyone?). All that's changed with recent developments in the function of faucets that make them handier and more helpful than ever, not to mention fun. And if you want to do a quick refresh of your kitchen, a new faucet provides a marvelous mini update to add to your renovation wish list. Here's a rundown of what we're excited about: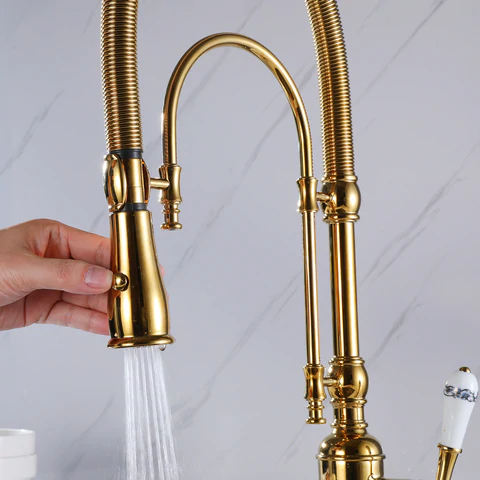 Hands-free

A motion sensor in the shank of the faucet detects hand movement to turn on a flow of water. Perfect for cooks who need to wash messy hands, it saves having to wipe down greasy levers later. It's also great for little chefs who can't reach high enough to turn on the water. Alternatively, some faucets will go on or off with a quick, light touch from the back of a hand or wrist or elbow. In either type, that same touch to the faucet then turns it off. Don't have a free arm or hand to make contact? A simple tap of the foot at the kitchen base unit to turn the faucet on and off will do the trick on some models.

Pull-down and pull out

Faucets with sprays built into the head have been available for some time now. However, manufacturers have recognized homeowners' different cooking styles, and even different needs within one kitchen. The answer: pull-down and pull out. Both come with retractable heads that switch between a steady stream of water and spray. Pull-down faucets have a high arc to provide the most clearance for bulky cookware like pasta pots. Pullout faucets have a mid arc height clearance to fill containers while taking up less vertical space—good under an upper cabinet or in front of a picture window.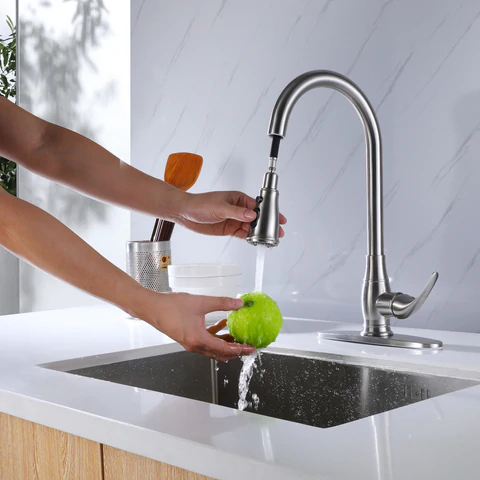 Carbonation and filtration

Clean, delicious drinking water is a constant concern, even at home. You can find faucets with internal waterways that allow you to alternate between filtered and unfiltered water and eliminate the need for a bulky filter pitcher in the fridge or plastic bottles delivered to your house. Here's a refreshing newer development: Now you can also have filtered, carbonated water from the faucet!
Colors

Finishes still make news as homeowner preferences toggle from stainless steel to nickel to oil-rubbed bronze and back to stainless again. Another area for color finally broke through for faucets, in a range of brightly hued hoses. If you want a conversation piece for your kitchen, this is definitely it.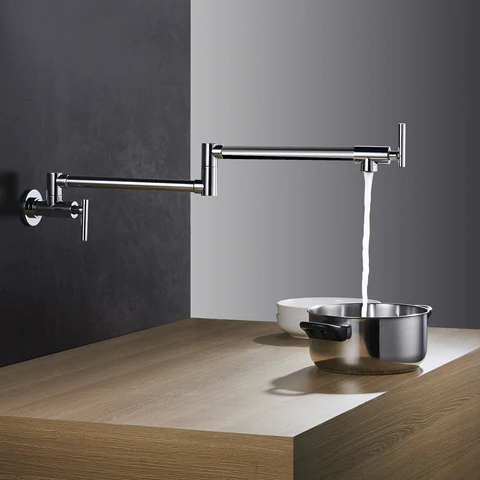 Antibacterial

You've probably heard of Microban. This antimicrobial technology is incorporated into many commercial as well as consumer products—from paint to food storage to athletic shoes—to help reduce the growth of germs and odors. Now it is available in some faucet finishes, where it works continuously, to help cut down on germs from food splashes you might not see, between cleanings.
A new countertop, a more efficient kitchen layout or a cabinetry overhaul can inspire your next renovation. Use our kitchen budget estimator to set your goal, budget, and scope.

Boyel Living handpicks the best general contractors to match each project's location, budget, scope, and style. Follow the blog for renovation ideas and inspiration and when you're ready to renovate, start your renovation
Comment