THE PERFECT BATHROOM ACCESSORIES
Aug 28,2021 | Vicky
THE PERFECT BATHROOM ACCESSORIES
Bathrooms are versatile, mercurial spaces that can be used to bring out a homeowner's creative, imaginative instincts. They are the ideal environment to spruce up with striking, bathroom accessories that will add a personal,unique quirk. The possibilities are literally endless and can be subtle touches or extreme, grand fixtures. The luxury bathroom accessories can make your room appear even more glamorous and user friendly. Here are just a few examples of how you can make the most of your bathroom. You can stamp your personality on it whilst also aiding practicality and flexibility:
LUXURY BATHROOM ACCESSORIES:
Bathroom cabinets and mirrors are the perfect bathroom accessories for any modern day bathroom. The functionality of bathroom cabinets are almost endless providing you with storage without taking up any floor space. While potentially offering you a range of features including: mirrored doors, shaver sockets, shelves and lighting giving you even more for your money, making cabinets for the bathroom a very popular choice.
Bathroom mirrors are also another great addition to any bathroom. In bathroom mirror range, have a huge selection of heated, backlit, standard and illuminated bathroom mirrors. Available in a wide range of sizes and styles and much like bathroom cabinets; with a wide range of features. These include LED lighting, Digital clocks, magnifying mirrors and demistable pads all adding to the functionality of your bathroom. Mirrors are more than a functional way of checking that you look good. Many mirrors are now more than just a design element. Coming with added luxury features and functions such as heating and illumination so you can inspect yourself more thoroughly.
Round mirrors are elegant and sophisticated additions that soften harsh, edgy rooms. There are also an assortment of LED and backlit mirrors. These are thoroughly modern and magnifying mirrors will enable you to see every pore. Mirrors can be used to intensify the light and therefore amplify the spaciousness of your bathroom.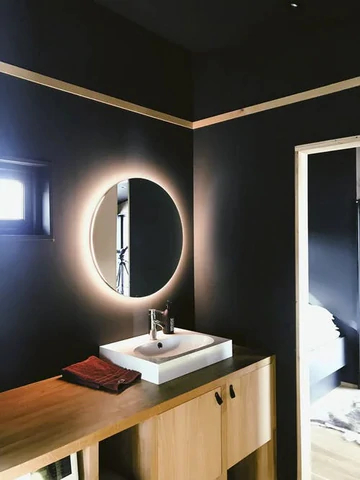 Bathroom Lighting is a functional feature that is now often used to enhance your bathroom like a show room. Lighting is an essential way of creating the desired atmosphere and ambiance. There are a range of ceiling lights, bathroom mirror lights and downlights. Lightning no longer needs to be harsh but can be soft and flattering and really open up a bathroom.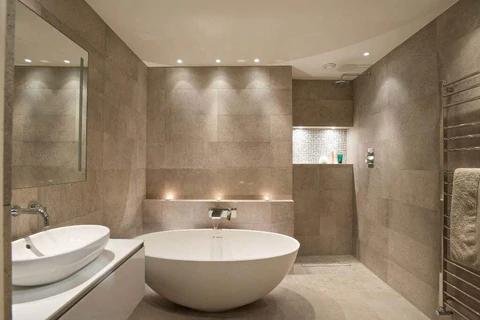 These types of accessories are a flexible, secure way of mounting essential items around your bathroom. From toothbrush holders to soap dishes, these items will add a quirky, convenient modern touch. Ensuring your bathroom will be the envy of all. Your most essential everyday items are now readily available to you 24/7.
Grab rails are useful, secure ways to ease yourself in and out of your shower and bath. They are ideal for those with poor mobility and come in a variety of strong and durable styles.
Bath mats ensure you don't get your bathroom floor wet. However they can also be a decorative addition to a bathroom that blends in with the style you are cultivating. For those that truly like to live the life of luxury in their bath, bath pillows are a great way to lay back and relax and let your troubles melt away.
Bathroom bins are such a convenient accessory because there is never a need to store up your rubbish and run to another room to dispose of it. You can do away with your rubbish then and there and keep your bathroom clutter free.
Toilet roll holders are made out of a variety of materials, from plastic, wood, chrome or stainless steel. Highly durable and stylish, this is a subtle way to add a little quirk to your bathroom.
Shelves don't strike most people as an exciting accessory. They are there to fulfil a function but modern shelves will store all of your items whilst looking glamorous too. Simple but striking corner glass shelves work well in minimalist or small bathrooms. While triple corner shelves are great if you have a lot of scrubs and soaps to store. Glass shelf brackets are gorgeously sleek and simple. For those who require maximum storage space, polished stainless steel cubicles provide maximised space.
Towel holders are essential but can also offer a very quaint touch. The Worcester towel ring is a striking hoop to loop your towel through but there are also a variety of solid and simple rails and hooks. Essential, practical, durable and with plenty of style, these luxury accessories will ensure your bathroom fulfils every purpose. View our extensive range of luxury bathroom accessories to add the perfect touches to your bathroom.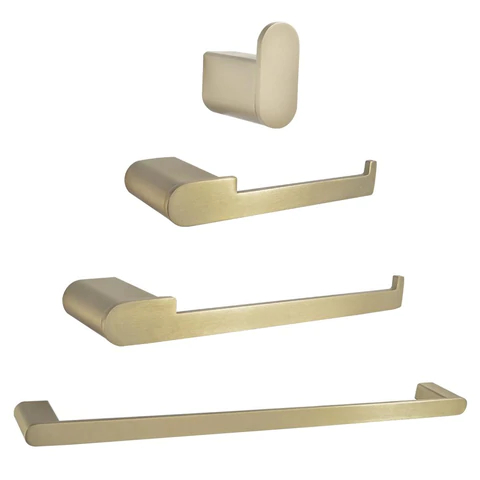 Having the perect bathroom accessories makes your experience richer and more convenient.
Comment